Kansas — Seven students in the KCLY Community have been selected as recipients of the Good Citizens Award from the Nathan Edson Chapter National Society of the daughters of the American Revolution.
The four are Emily Jones from Washington High School, Michelle Zarybnicky from Hanover High School, Jett Skocny from Clifton/Clyde High Schools, Lindsay Mueller from Linn High School, Evan Custer from Miltonvale High School, Jessica Thurston from Glasco High School, and Juan Ayala from Concordia High School.
Juana Ayala was also the winner of the essay contest. The essay question this year was "How do the qualities of good citizenship help support our Nation."
Students who receive this award must possess the qualities of dependability, service, leadership, and patriotism in their homes, schools and communities. The national society of DAR has been awarding students for this honor since 1934.
This program is only open to high-school seniors whose schools are accredited by their state board of education. Only one student per year may be honored.
Emily Jones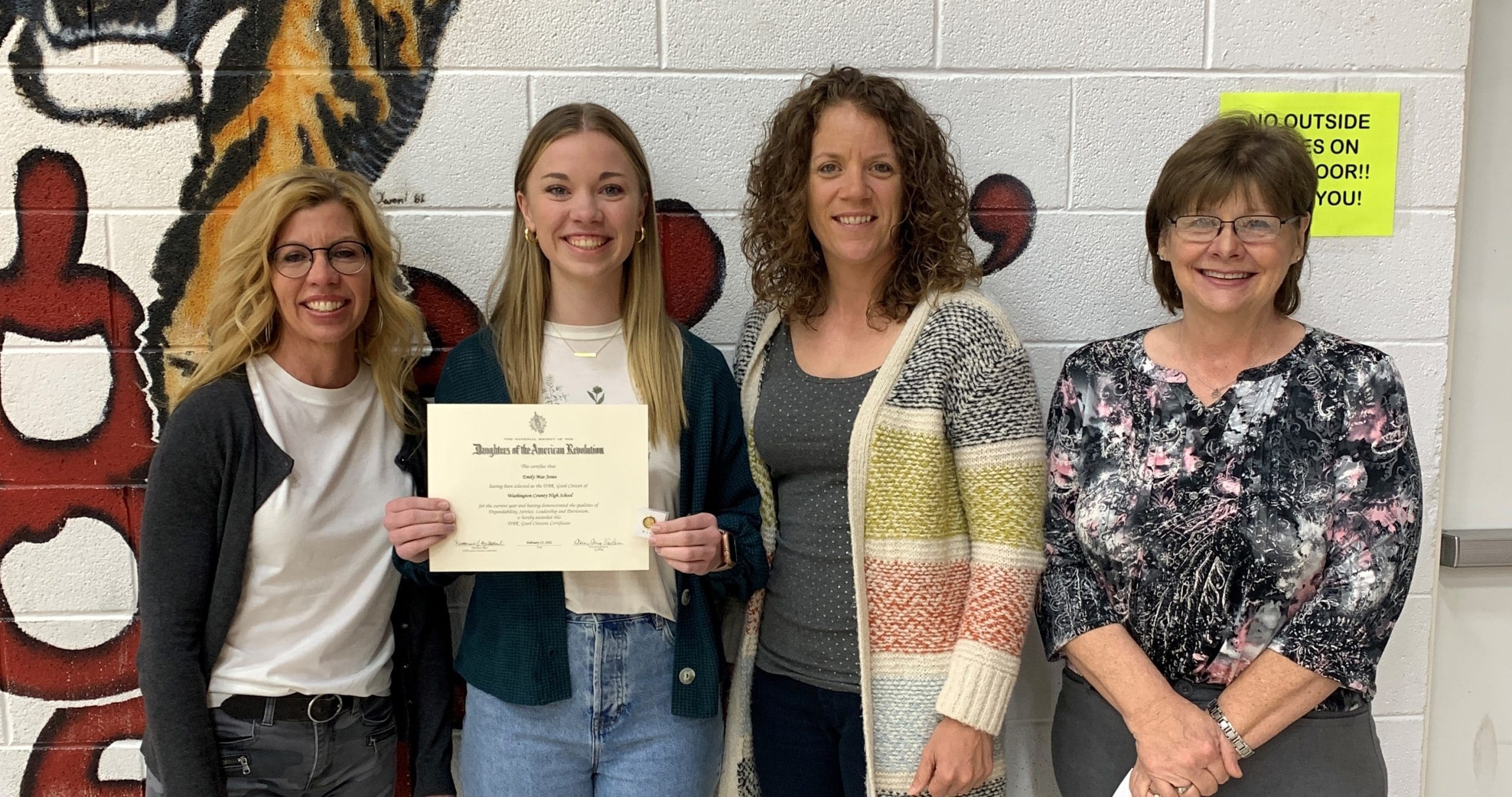 Emily is involved in FBLA where she one the State and Community Service award, FCCLA, FFA where she received the Star Greenhand award and placed first in public speaking, Volleyball where she was team captain for two years, Cheer, National Honor Society, Art Club, International Club and Pep Club.
In her community she has been involved with Tiger Pals which is a high school version of Big Brother/Big sister; Veterans Day Assembly, Dance Camp, and Community Clean up Days.
Some of her jobs have been, childcare provider, Dance Teacher and PowerZone Volunteer.
Emily likes to travel, meet new people and learning new things.
Emily has been accepted to Kansas State University where she will major in Psychology.
Michelle Zarybnicky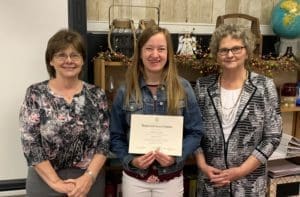 Michelle is involved in Volleyball, Cross Country, Track, Basketball, FBLA, FFA, Scholars Bowl, National Honors Society, Forensics, Superintendent Student Advisory Council, Choir, Drama Club and Student Council where she has been the class officer for four years.
She is a community member of Prayer and Action, and Totus Tuus, a weeklong Catholic youth educational program she has attended for four years. She has been a Candy Striper at Hanover Hospital, a church volunteer and is a two-year Community Service Member.
Michelles hobbies include spending time with her family and friends, playing sports, reading and baking.
Michelle will be attending Benedictine College in Atchison, Kansas where she will work towards a Bachelor's degree in Nursing.  Her aspiration is to be a pediatric nurse.
Jett Skocny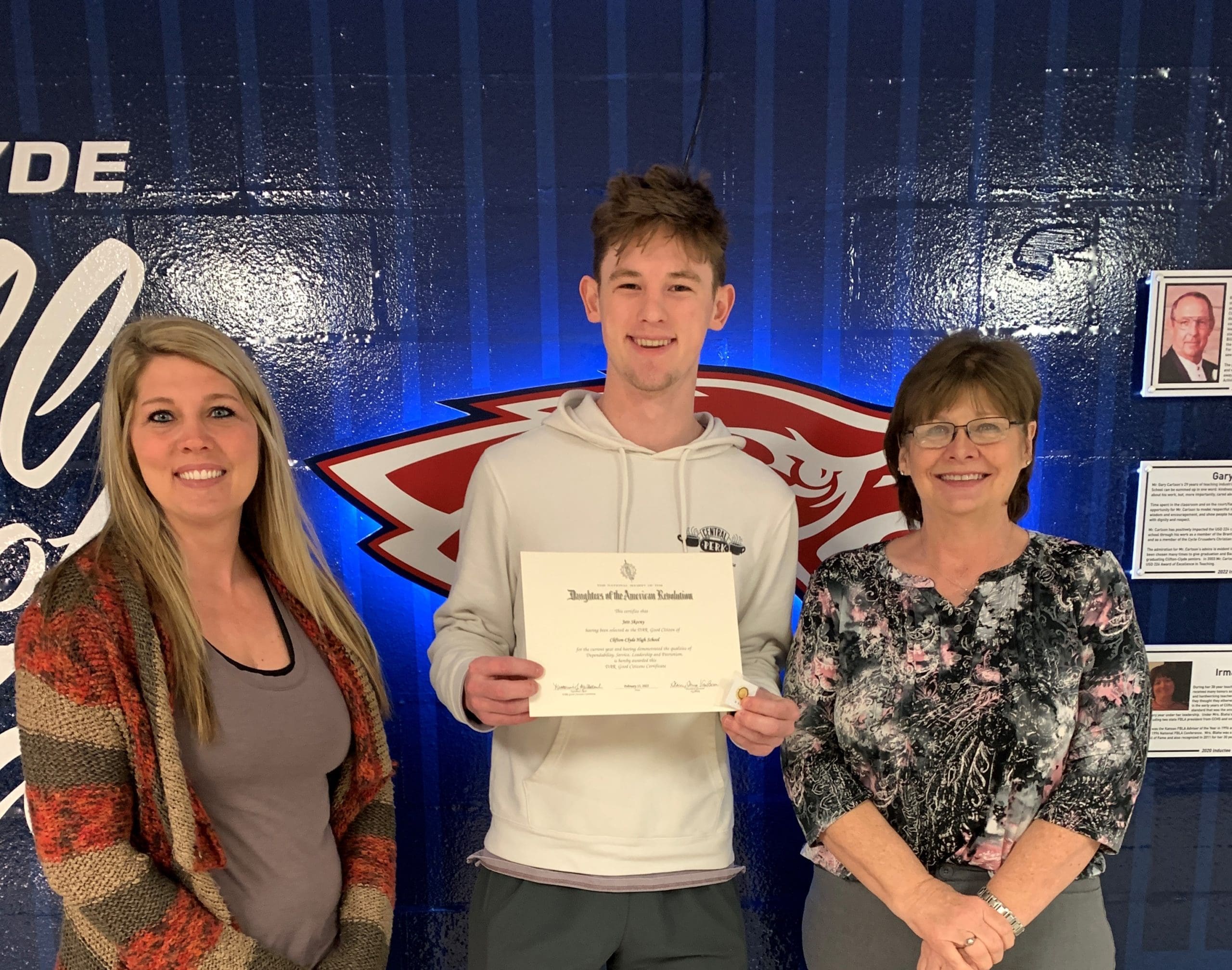 Jet has been involved in Football for four years, has been team captain and an All-League post season award recipient. He is a four-year summer weights athlete, a four-year member of basketball, FBLA, where he served as Civics Director and Vice President, Nation Honors Society,  also as president for one year, Student Council also as president for one year, Eagle Mentorship, Eagle Wings Leader and FCA.
Jett helped coordinate his Junior/Senior Prom post Covid 19 which was challenging.  He has volunteered to remove snow at his local church during inclement weather and takes care of the lawns at his parents and grandparents' homes.
Jett's hobbies include baseball, golf, hunting, mustang restoration and the art of Bonsai.
Jett plans on attending Kansas State University where he has been accepted into the Architecture Program.  He also wants to study economic development and community planning.
Lindsay Mueller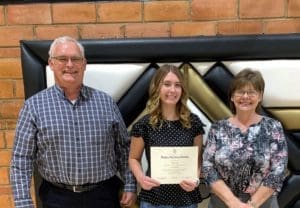 Lindsay is involved in Art Club, Band, Basketball, FCLA, FBLA, Forensics, Letter Club, National Honor Society, Scholars Bowl, Student Council, Summer League Basketball, Summer Weights, Thespians, Track and Volleyball. She has held officer positions in eight of these organizations.  She has received awards in volleyball, band, State Forensics, FBLA, DARE, KU Engineering Expo Competition, Art, and Women in STEM Program
Lindsay has worked as a lifeguard at Linn City Pool, she provided childcare for a local family, worked at Wholmoor American Legion, for Scott Mueller Construction and is presently employed by Ohlde Seed Farm.
Lindsay's hobbies include reading, shooting hoops, baking, walking/ hiking and hanging out with her friends.
Lindsay plans on attending Southeast Community College in Lincoln, Nebraska where she will study Radiology.
Evan Custer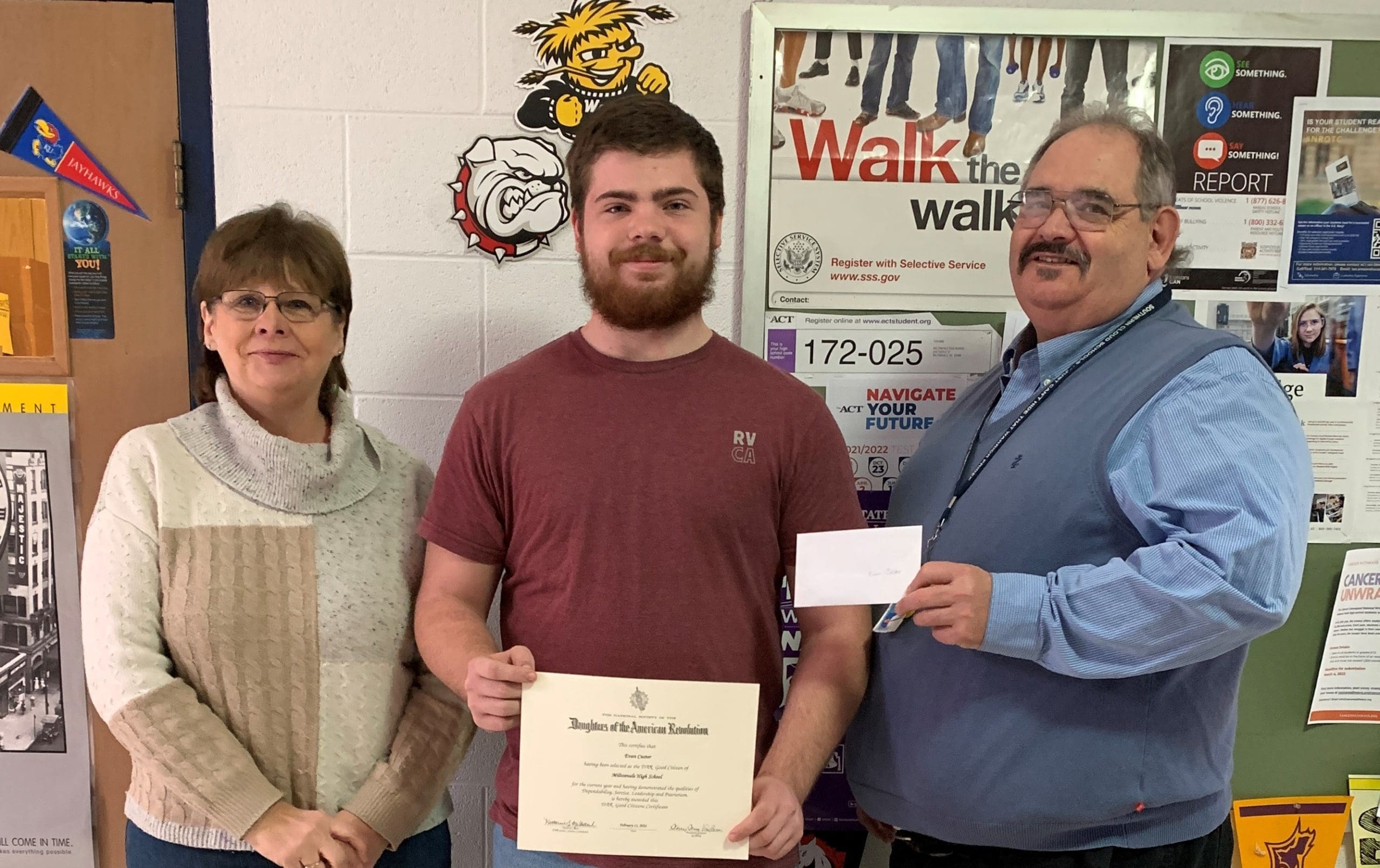 Evan has been involved in Student Council for three years and is now student council president.  He also participates in football, where he was given honorable mention for his kicking and for Left Offensive Guard.  He has lettered in band and choir and has been involved in the Scholar's Bowl for two years. He often can be seen helping younger students with their homework, he wants younger students to feel it is okay to ask for help when needed without being embarrassed.
He recently worked for the high school helping refinish the floors and has also worked for the city of Miltonvale the last three summers.
Some of Evan's hobbies include singing, playing the piano and trumpet, hiking, fishing and camping.
Evan plans to attend Fort Hays University and study towards a degree in Biological Sciences.
Jessica Thurston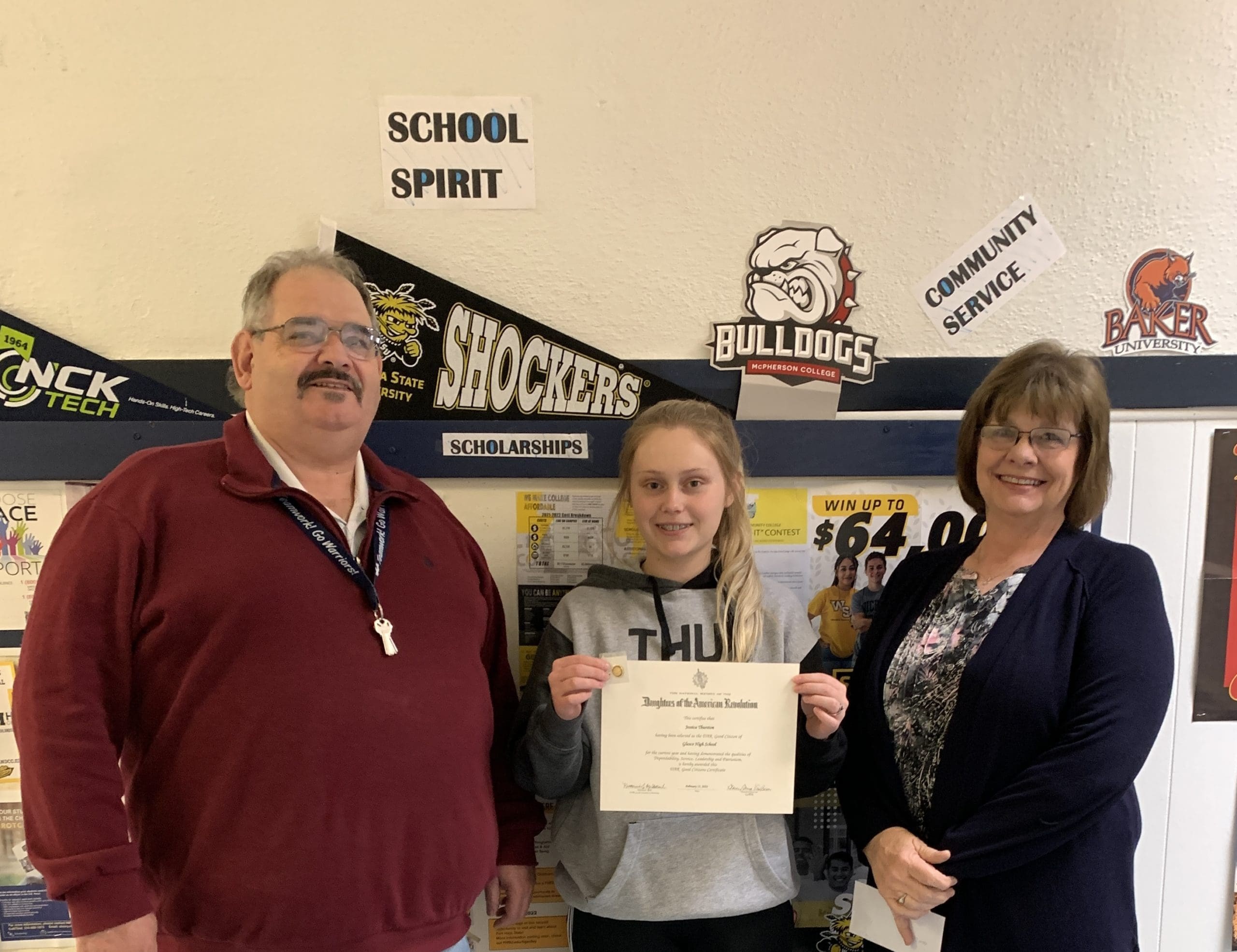 Jessica is involved in Basketball, Volleyball, Scholars Bowl, FFA, Judging, Rodeo Drill Team, NCK Saddle Club and Student Council and is the senior class treasurer.
Her community service includes working with the senior class and planning and preparing a Sunday meal program for the senior citizens within the community.  She has also worked with the American Freedom Riders of Concordia, KS to provide pony rides for children at local rodeos.
Jessica has worked on her family farm, Sonic Drive Inn and Tim Sjogren Farms.
Her hobbies include farming, fencing, horse riding, working with cattle and driving tractors and computers.
Jessica plans to attend Cloud County Community College and pursue a degree in Agriculture.
Juana Ayala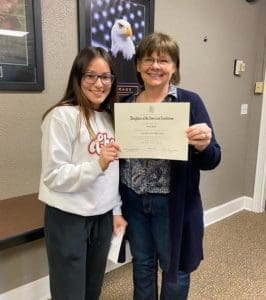 Juana participates in Student Council, National Honor Society, FCA Officer, Cheerleading and CYO – The Deep. Juana plans to attend college and major in business and minor in health and nutrition.