Female-Directed Films are Having a Moment
By: CenturyLinkQuote
Throughout Hollywood's male-dominated history, most of the top positions working on a movie, from producers and writers to the true auteur of the film, the director, have been occupied by men. But even throughout that male-dominated history, women have fought to have their voices heard and their contributions recognized.
Now, the tables are turning, if ever so slightly. Still, even though more films now are directed by women than ever before, only seven women have been nominated for Best Director at the Academy Awards. But those films and those nominees are making an impact—two of the last three Best Director statuettes have gone to women, Chloe Zhao for Nomadland in 2021 and Jane Campion for The Power of the Dog in 2022.
Just in time for Greta Gerwig's surefire hit Barbie to hit the screen, the team at CenturyLinkQuote.com decided to find out which female-directed film is on people's minds—and in their web browsers—across the nation, by state.
The Most Searched Female-Directed Film by State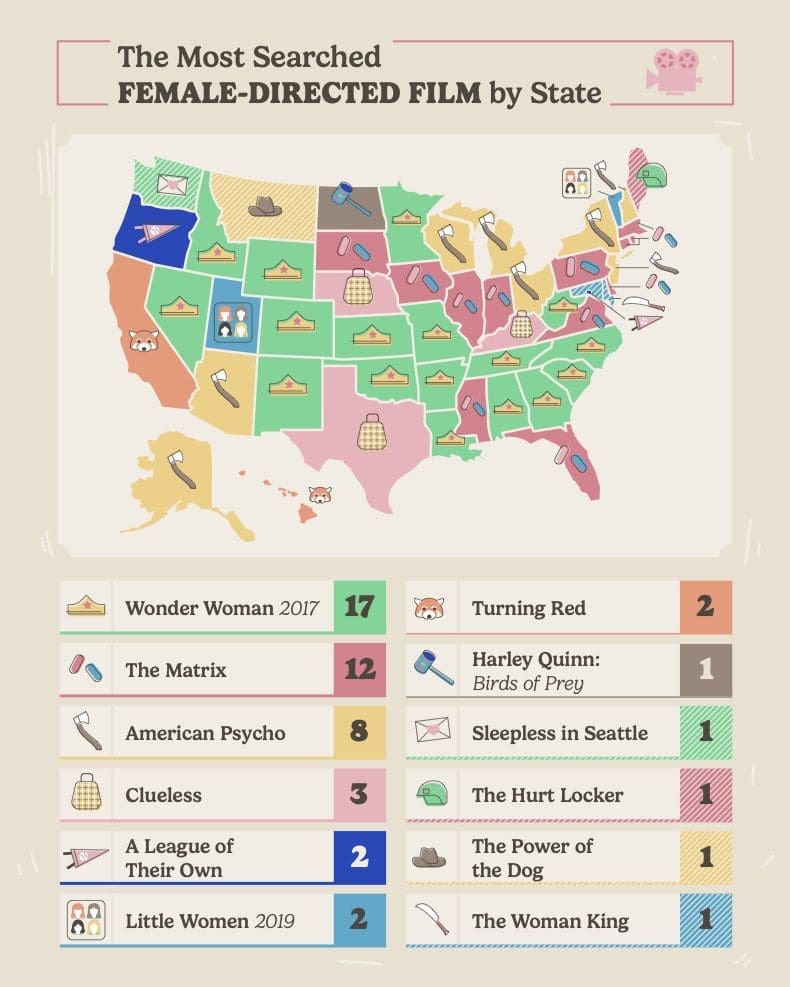 Female-Directed Film Facts and Figures
Using search volume we determined the level of interest by state to rank our female-directed films. Included in the infographic below is more about each movie and director, including how well the films performed at the box office and during award season and the critical consensus from Rotten Tomatoes.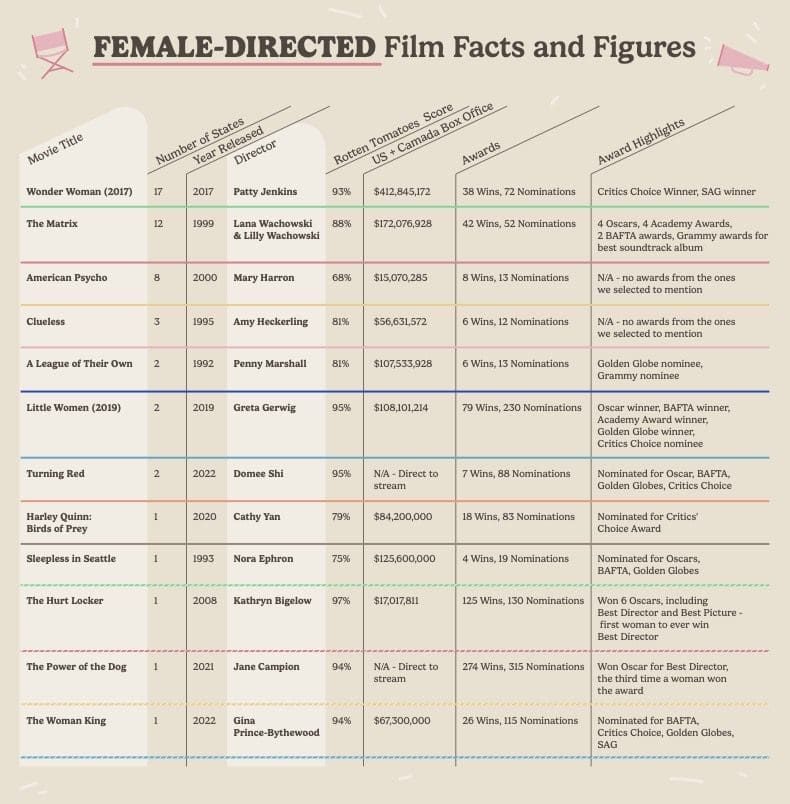 Interesting Findings
The most searched film in the most states (17) is also the highest-grossing film from a solo female director: Wonder Woman (2017). Director Patty Jenkins broke new ground in the superhero genre as the first female director to direct a film with a budget greater than $100 million—and became the highest-paid female director in history when she signed on to direct the sequel WW84.
12 states searched most for The Matrix. A game-changing action/sci-fi blockbuster from Lana and Lilly Wachowski, The Matrix won every category in which it received an Oscar nom in 2000, along with 2 BAFTA awards and a Grammy for best soundtrack album. Whoa.
Acclaimed action director Kathryn Bigelow became the first woman to win the Best Director Oscar with 2008's The Hurt Locker.
Upon release, American Psycho was criticized for its violence and misogyny—director Mary Harron disagrees, calling it a subversive and feminist film. Its condemnation of toxic masculinity is still relevant more than 20 years later.
In 2022, women comprised 24% of directors, writers, producers, editors, and cinematographers working on the top 250 grossing films, down 1% from 2021.
Women have been behind the camera since the beginning—in 1896, Alice Guy Blaché became the first woman to ever direct a movie. La Fée aux Choux (The Cabbage Fairy) is considered one of the first narrative films.
Methodology
To identify each state's most searched female-directed film, we gathered data on films directed by women from iMDB, then used SEMRush's keyword volume analysis to determine the 15 films with the most search volume. Using Google Trends, we found which of those 15 was most searched by state.
About CenturyLinkQuote.com
CenturyLinkQuote, an authorized sales agent of CenturyLink products.