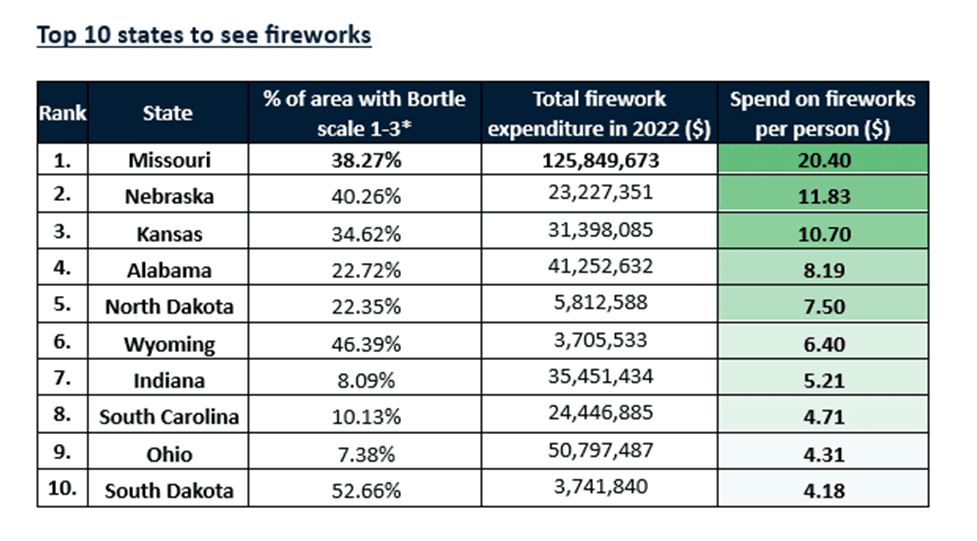 With the Fourth of July almost here search volumes for "where to watch the fireworks near me" have increased by 250%. American Casino Guide calculated each state's Bortle scale, a nine-level numeric scale that measures the night sky's brightness of a particular location. Kansas shows favorable odds of optimal visibility for fireworks this Independence Day.
They also calculated each state's fireworks expenditure per capita, and came up with some key findings:
Kansas ranks 3rd, with a firework expenditure of $10.70 per person last year.
Missouri had the highest firework expenditure per person last year, at $20.40, but ranks just 11th in optimal visibility (Bortle scale 1-3).
Massachusetts has the lowest firework expenditure per person at just $0.01, with just 12.40% of the state having optimal dark sky conditions.
Vermont has the most ideal conditions for watching fireworks, with 64.25% of the state falling into Bortle scale classifications 1-3.​
Article Credit: https://www.americancasinoguide.com/