Riley County, KS- Flu season is here once again and the Riley County Health Department (RCHD) is helping the community stay healthy by offering vaccines. Influenza vaccines as well as COVID-19 vaccines and boosters are available at the Riley County Health Department's Health Clinic at 2030 Tecumseh Road as a walk-in service or by appointment. People also have the opportunity to get vaccinated at the 10th Annual Oct-FLU-ber Fest on Thursday, October 20th from 3:00 – 6:00 p.m. at the Family and Child Resource Center, located at 2101 Claflin Road.

At this family-friendly event, RCHD will offer flu vaccines and COVID-19 bivalent booster doses, plus fun activities and giveaways.

Each child receiving a flu shot will be given a free pumpkin while supplies last. In addition to flu shots and Pfizer bivalent COVID boosters, there will be free books, plus a mini Farmer's Market hosted by A&H Farms. RCHD will be giving away 150 $10 vouchers (1 per family) to spend at the mini Farmer's Market on the day of the event.

"Making vaccinations easy to access and adding some fun to the process has been really helpful," said Health Department Director Julie Gibbs. "Getting vaccinated benefits you, your family, and the community. We hope you can stop by and see us!"

To speed up the check-in process, people can complete the paperwork ahead of time. Visit www.rileycountyks.gov/flu, print the Flu Registration Form for the appropriate age group, and bring it to the event.

"Doing the paperwork ahead of time will reduce your wait time," said Clinic Supervisor Dr. Jacob Clarke, MD. "Also remember to bring your insurance card if you have one. Flu shot prices and availability will vary based on your age and insurance coverage. If you are insured, the flu vaccine is typically covered 100%, with no additional cost to you. Likewise, COVID shots are administered with no fees for both insured and uninsured attendees."

Flu vaccines will be free to uninsured or underinsured children through the Vaccines for Children immunization program and a generous grant from the Memorial Hospital Association. Children under 18 must be accompanied by a parent or legal guardian to receive vaccinations.

A limited number of reduced cost shots for uninsured or underinsured adults are available on a first come, first served basis. For this select number of vaccine recipients, there will be a $20 vaccine administration fee. Otherwise, adults without insurance can pay the full cost ($41 for standard flu vaccine, admin fee included) and get vaccinated.

"During busy times at the clinic, we may not have appointments available, but we're still able to take walk-ins. I encourage folks to stop by during clinic hours. The process is quick and you shouldn't have to wait long," said Clarke.

The Riley County Health Clinic is located at 2030 Tecumseh Road.

Riley County Health Clinic Hours:
Mon-Wed: 8:30 a.m. – 4:00 p.m.
Thurs: noon – 6 p.m.
Fri: 8:30 – 11 a.m.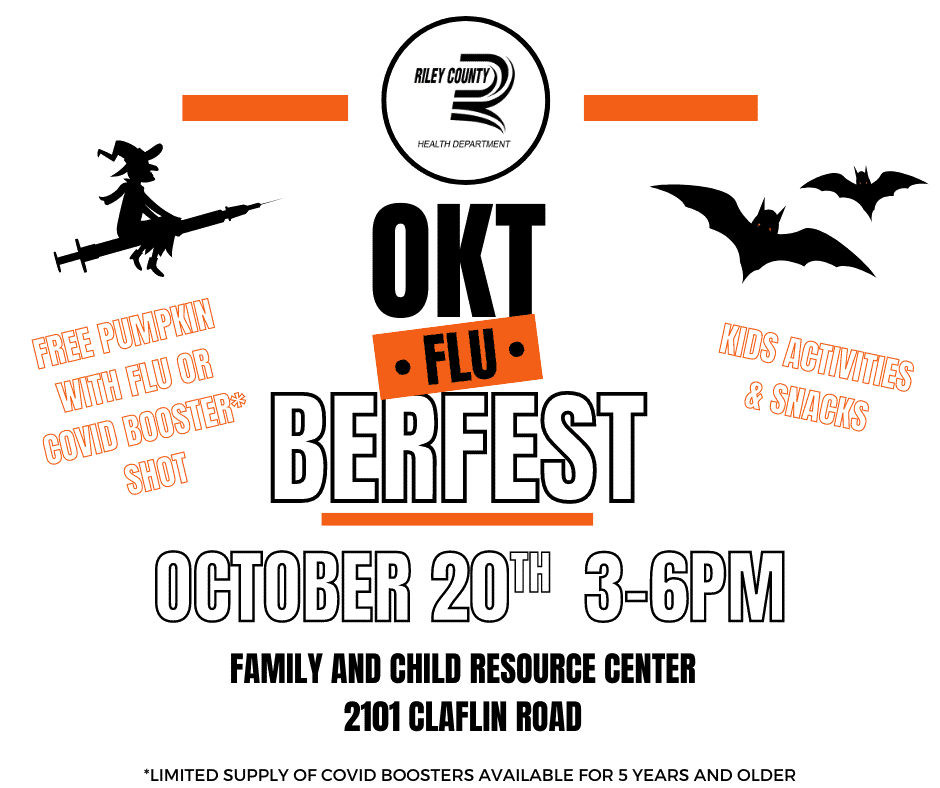 Take 3 Actions to Fight the Flu!
1) Get vaccinated
The single best way to prevent the flu is by becoming vaccinated. The flu vaccine (shot) not only protects the person from the flu but also prevents the spread of flu in the community. The Centers for Disease Control and Prevention (CDC) recommends annual flu shots for everyone 6 months and older with rare exceptions. Get your flu shot by the end of October, if possible. It takes about 2 weeks after your flu shot for antibodies (infection-fighting cells) to develop in the body that protect against flu.  Children who need two flu shots to be protected should start the vaccination process sooner, because the two shots must be given at least four weeks apart. You cannot get the flu illness from the flu shot.
2) Take everyday preventive actions to help stop the spread of flu.
Persons confirmed to have the flu are required to stay home for seven days following the start of symptoms per Kansas regulation. According to CDC, persons with the flu can spread the flu for 5-7 days after becoming sick.
Avoid close contact with sick people, avoid touching your eyes, nose, and mouth, cover your coughs and sneezes, wash your hands often (with soap and water), and clean and disinfect surfaces and objects that may be contaminated with flu germs.
3) Take antiviral drugs if your doctor prescribes them.
If you get the flu, antiviral medicine can be used to treat flu illness. This medicine fights viruses to make illness milder and shorten the time you are sick. They also can prevent serious flu complications, like pneumonia.
Additional flu specific information can be found on the CDC website www.cdc.gov/flu/.
For additional information about Okt-FLU-ber Fest 2022 visit www.rileycountyks.gov/flu or contact the Riley County Health Department at 785-776-4779.
The mission of the Riley County Health Department is to promote and protect the health and safety of our community through evidence-based practices, prevention, and education.