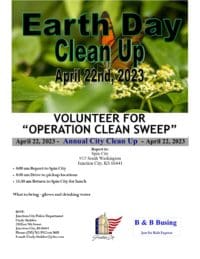 Operation Clean Sweep
It is that time of year again! The City of Junction City CLEAN Team is celebrating Earth Day by hosting "Operation Clean Sweep".  Operation Clean Sweep is a city clean-up scheduled for Saturday, April 22nd, 2023 from 8:00 am to noon.  Please see the attached flyer for more details.
8:00 a.m.-Report to Spin City
8:30 a.m.- Drive to pick up locations
11:30 a.m. – Return to Spin City for lunch
Volunteers are needed for the event.  Please help us celebrate Earth Day by participating in Operation Clean Sweep.
Volunteers should report to Spin City at 915 South Washington at 8:00 am on April 22nd. Bring gloves and drinking water.  Lunch will be provided.
Over the last 10 years, volunteers for Operation Clean Sweep have removed 15.42 tons of trash from Junction City!