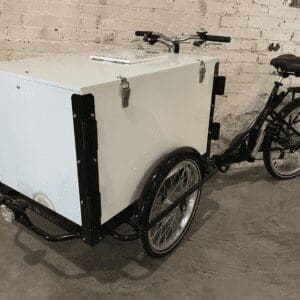 A new mobile business will be roaming the streets of Clay Center. Simply Scoops, owned by Josh and Alisha Brownell, offers hand-scooped ice cream from a bike. The duo plan to visit local businesses and serve customers on foot, as well as riding around town at least two nights a week, Alisha said. The mobile cooler holds seven flavors of hand-dipped ice cream at a time. Flavors are made from a small creamery in Missouri and delivered directly to the Brownells.
The ice cream bike made its debut June 14th and will be in front of Java Junkies in Clay Center on June 16th from 12-2 pm. More locations can be found on their Facebook page.
"Growing up here in Clay Center, you couldn't ask for anything better than going to Dairy Queen," Alisha said. Adding that her family lived just three blocks from the chain after they relocated to Hays. But when they moved back to Clay Center in 2016, the sweet treat was missing.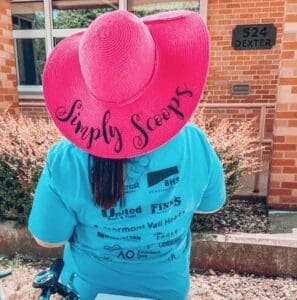 "I kept thinking, "We need ice cream in Clay Center!" And I heard so many people say the same thing," she said.
That's when she began researching, first buildings in town. Though she said most were too big for their needs. That's when she discovered an account on TikTok: the ice cream bike lady.
An entrepreneur from Maryland rides her bike, affixed with a freezer, and sells ice cream sandwiches.
"I got really excited," Alisha said. "Josh thought I was crazy."
However, the two reached out to the TikToker to find out where she got her bike. Within two weeks they had their own freezer-clad bicycle. Meanwhile, they found a small creamery in Missouri to provide wholesale ice cream. A new deep freeze to house it all, and the duo was ready to set up shop.
Alisha plans to roam the town at least two nights a week, selling ice cream to anyone who flags her down. (Listen to their speaker for ice cream truck music.) The Simply Scoops bike will also work various events, or park in front of businesses upon request.
"People love ice cream! The bike just adds to the fun of it."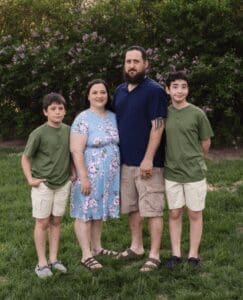 Josh and Alisha Brownell and their two sons, 10 and 13.