On Thursday June 8th, Public Works Director Scott Glaves led the Clay Center Rotary Club on a tour of the Clay Center Zoo to show them the expansion that is taking place and discuss future projects. This expansion began in 2014 and is still under way. Glaves explained that approximately one major exhibit is added to the zoo every year.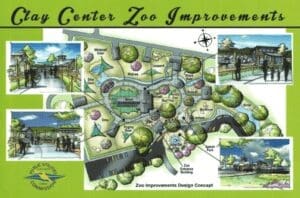 The Suzanne Hauserman Aviary is one of the most recently finished projects. The aviary is a nice addition to the zoo because it allows visitors to go inside and see the birds. The zoo currently has two adult cheetahs that are on loan from Tanganyika Wildlife Park, located in Goddard, Kansas. When they return to their permanent home, the zoo will be adding two cheetah cubs this fall. Lorikeets will also be arriving at the zoo in the fall.
The next major building project will consist of an entry and visitor center located south of the aviary building along the perimeter fence. The visitor center will consist of educational displays, restrooms, a meeting room, and a splash park. The zoo currently has the funds to start the project, but not quite enough to complete it. The plan is to build the shell and slab this summer.