A Clay Center woman joins the rank of published authors, thanks to the release of her recent fiction title, 22 Years Gone. Rhys Baker, who works at Meadowlark Hospice, released her book last fall via Amazon's self-publishing platform.  
"I hadn't always wanted to write a book, but it was in the back of my head," she said. "I've always been a pretty prolific reader."
Between March and October, she penned the book, then released it as an eBook in November. This June a paperback version was added for those who prefer a physical copy.
The book, which she described as a second chance with a romance aspect, came to her as a recurring dream.
"It just started as getting the dream out of my head," she said. "I thought it was just a fun project."
But weeks in, she realized she was onto something. After reaching 25,000 words, Baker said she considered turning the text into a full manuscript.
"I thought 'Holy moly this is more than just getting it on paper. I might as well just publish and get it out there,'" she said. Adding that, in college, writing papers was difficult for her, but with the book, words just seemed to flow.
As thoughts came, she wrote notes, texted herself, and then incorporated the ideas back into the story later on. Even as a teenager, Baker said she always wrote notes, but putting them into something comprehensive has been a project she never expected to accomplish.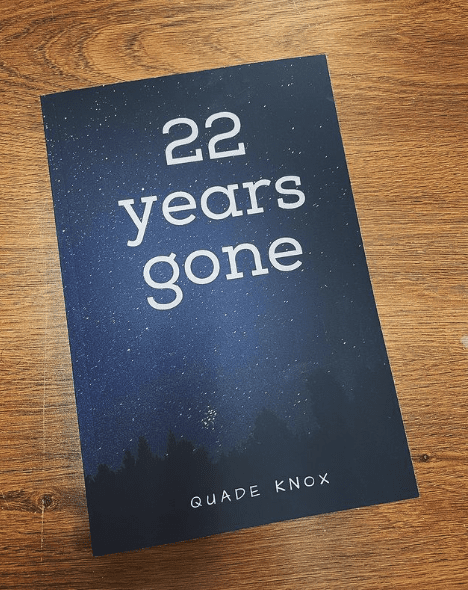 "It's wild to even say it out loud. That I wrote a book," she said. "When people ask me about it, I'm a total ball of nerves."
The title, 22 Years Gone, is written under the pen name, Quade Knox, which Baker said is a combination of a family name and her own first name, which is Welsh.
As for the decision to write under an assumed name, she said it was recommended to her multiple times over, should she want to change genres with a future book. This was just one section that Baker researched heavily, however. She spent months learning about publishing, formatting, and had multiple beta writers help her tighten the storyline and "make it much better," she said.
And though the book was based on a dream, it's also a complete work of fiction.
"Everyone is made up. There are similarities and shared experiences, but I'm definitely not Kate (the main character). She's way cooler than I am."
Currently, she is working on a second book, still in the same genre, as Quade Knox, that includes the same characters.
"It's not totally out of my head yet, but I have a good idea of what it's going to be."
22 Years Gone can be purchased as an eBook or paperback on Amazon.
Follow more from Quade Knox on Facebook, Pinterest, and Instagram.