For the past 30 years, a dance, twirling, and tumbling studio has taught students on the north end of Clay Center. This August it took on new owners. Clay Center native and former Chamber Director and Assistant Director, Shannon Stark and her husband, Owner/Operator of TS Power.
Stark began twirling and dancing at the age of 4 and has taught – in one form or another – since middle school. She performed as the KU feature twirler while in college and she started a twirling/dance program in Lindsborg, before returning to Clay Center. Stark also worked through the Abilene Parks and Rec department, teaching twirling and tumbling.
During COVID, she taught via Zoom.
"I feel really equipped going into this," she said. "Some way, I've always figured out how to keep [coaching] in my life."
Classes started this week with back-to-school schedules, including tumbling, twirling, and various styles of dance for ages PreK through high school. Though there's no real cutoff, Stark said.
"If a college girl wanted private lessons, I would absolutely give them," she said.
While for the time-being classes will remain similar to the previous Slagle Studio, there are a few immediate changes ahead. Tap lessons will be offered by Ryan Rourke, another Clay Center native, who performed in K-State's Tap Ensemble throughout college. Other skilled teachers include: Ashley Beswick, Erika Willmann, Morgan Slagle, Rylee McDaniel, and high schoolers and international twirlers, Addy Gurney and Alexa Leitzel.
"A lot of my students are coming from Slagle Studio," she said. "We're keeping a lot of the same format. I'd like to get feedback from students and parents to see what works and what doesn't."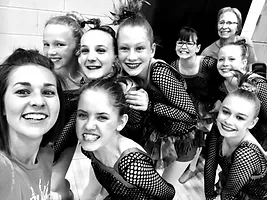 This winter, Stark also plans to have open gym times for kids to burn off energy. She said there will be options for several age groups, including running/gymnastics for toddlers, all the way up to basketball for older kids. Dates and times will soon be posted on their website, she said.
Other styles of classes that are offered include ballet, hip-hop dance, twirling, and tumbling. She also wants to reinstate middle school and high school drill teams, which have waned in popularity in recent years.
"It's so interesting to see how things align with pop culture. You'll see a huge growth in tumbling when the Olympics are happening," she said. "And young girls love Tik-Tok dances. Hip-hop is huge right now; those are the dances they want to learn."
A former student of Koralea Slagle, the previous owner, Stark took over the location this August.
"She's been my coach since I was 4. I think she's known since middle school that I loved teaching and wanted to have my own studio."
That conversation has been open – to some degree – for the past several years, Stark said. The timing was right, and the pair struck a deal. Slagle will continue with private lessons and involvement with national twirling associations.
A ribbon-cutting ceremony will be held this Friday, August 25th from 4-7 pm. The public is welcome to help celebrate.
For more information on classes or the studio, head to starkdanceandbatonstudio.com/